Elder Law: "When Do I Need An Attorney Who Specializes In Elder Law?"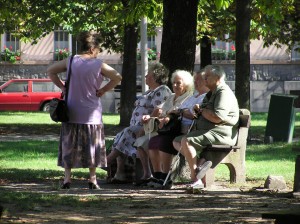 The area of law described as "Elder Law" is a relatively new area, and arguably, one of the most quickly expanding areas of law, due in large part to the aging population of baby-boomers.  Although Elder Law attorneys do specialize in the specific needs and issues facing the elderly, many Elder Law attorneys provide important perspective and assistance earlier on in their clients' lives in the more traditional areas of Estate Planning, Disability, and Family law.
In short, Elder Law attorneys seek to provide a holistic approach to issues of financial security and mental capacity, two common issues and concerns as we age.  As a result, many clients first meet with and establish relationships with an Elder Law attorney well before they become senior citizens. This blog entry is designed to introduce you to this area of law and describe the reasons you may choose to seek the advice of an attorney who specializes in this area.
Here are the various practice specialties within this area (your attorney may practice in any or all of these sub-specialties):
Almost any controversy can end up in the courtroom, and Elder Law attorneys may litigate these disputes. Disputes may arise among family members during the Probate process over the deceased's estate, may arise when there is an injury or death in a hospital or nursing home, or may arise when a vulnerable adult is the victim of abuse, neglect, or fraud, just to name a few examples. Commonly, although not always, litigators specialize in fairly well-defined sub-specialties.
The areas of transactional work and advocacy often intersect and are closely linked. For the most part, transactional work includes more traditional areas of Estate Planning (Wills and Trusts), Probate Practice (non-litigated), Family Care-Giver Agreements, Powers of Attorney, Health Care Directives, to name just a few.  These attorneys assist their clients in executing documents that will serve as legal documentation of plans, decisions, and agreements.  These attorneys specialize in gathering information, educating families, prioritizing their concerns, and advising clients on how best to navigate their final years with their financial assets and, in some cases, diminished capacity.
Public programs and assistance, the medical profession and significant illness, and long-term care can be extremely complicated and overwhelm even the most capable among us. Some attorneys specialize in advocacy for their clients in one or multiple areas such as:  Medical Assistance, Medicare, Social Security, Disability, Long Term Care, and hospitalizations. Anyone who has ever tried to navigate insurance regulations, complex health care decisions, applications for public programs or assistance, or needs to appeal a decision by the same knows that the process can be daunting.  Having an advocate who is expert in the area, knows the expectations and regulations, and understands the common issues, processes, and players can be extremely valuable to clients and their family members.
Elder Law attorneys focus on the special needs of aging and disabled adults, but you don't have to be "elderly" to take advantage of an Elder Law attorney's services and expertise. If you're looking for an Elder Law attorney, you can ask your friends and family members who they've appreciated, look them up by practice area, contact your local or national bar association, or consult your local senior resource centers.
This blog is written by Bridget-Michaele Reischl, Attorney DECORO LAW OFFICE, PLLC
www.decorolaw.com
ALL READERS:  This blog is not, nor shall it be deemed to be, legal advice or counsel. This blog does not create an attorney-client relationship with any reader.  It is designed to encourage thoughtful consideration of important legal issues with the expectation that readers will seek professional advice from a licensed attorney.
Contact Bridget-Michaele Reischl at: DECORO LAW OFFICE, PLLC 6 West 5
th
Street, Suite 800-D Saint Paul, MN  55102 (651)-321-3058